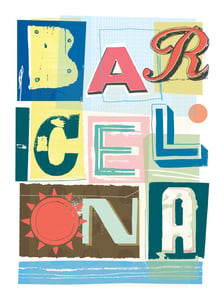 £

30.00
BARCELONA TIPOS CALLEJEROS - BARCELONA STREET TYPE - SOUVENIR DE BARCELONA PRINT
30 x 40cm Open edition hIgh quality digital print
30 x 40cm Impresión digital de alta calidad
'SOUVENIR DE BARCELONA' - Illustrations.
This collection of posters is my small homage to Barcelona, still a little bit of a tourist in the city in some respects, even after four years of living here, I see the the ordinary as exotic.
A mix of blue skies, architecture, found typography, street patina and daily life - These posters are new souvenirs for both visitors and natives alike. Combining collage, drawing, words and found imagery to create modern posters as keepsakes from a wonderfully inspiring city.
All posters are sent in sturdy cardboard tubes.
This poster fits off the peg frames from habitat and IKEA.
'SOUVENIR DE BARCELONA' - Ilustraciones.
Esta colección de posters son mi pequeño homenaje a Barcelona. Todavía un poco turista en la ciudad, incluso después de cuatro años viviendo aquí, veo lo ordinario como exótico.
Una mezcla de cielos azules, arquitectura, tipografías encontradas, pátinas y costumbres - Estos posters son tanto souvenirs para los visitantes como para los locales. Combinan collage, dibujos, palabras, imaginería encontrada para crear unos posters modernos como recuerdo de una maravillosa e inspiradora ciudad.
Todo las ilustraciones se enviados en tubos de cartón resistentes.
Las ilustraciones encajan perfectamente en marcos estándar de Habitat y IKEA